As a horse owner, I'm sure you've all read books, blogs and articles on how to keep your farrier happy by setting up a great spot in which he can work.  But ask different farriers what they prefer and you are likely to get different answers – and sometimes none of them are mentioned in the books and blogs.  And did anyone ever ask horses what THEY wanted?  Well, I asked my farrier what he and my horses would prefer.
A quiet place is good, but too quiet is not
Some people set up their shoeing area far away from the mainstream noise and activity of the barn.  But if the area is too quiet or is too removed from being near other horses, your horse can become upset.  It may sound odd, but a shoeing area that is too sterile can actually make things harder on your horse.  Remember that horses are herd animals and there is safety in knowing what the rest of the herd is doing.  When he can't see, smell or hear them, he can start worrying.  Add to that the fact that we are not only tying him up, but also holding up one of his hooves so that he can't run away and your horse can become downright scared.  This can result in your horse, who was fine being shod at an old stable, but now being a problem when the shoeing place is too isolated at the new place.
Wash racks – great for bathing, not so great for shoeing
Despite the perceived ideal setup of a wash rack (plenty of room, cross ties, off the main aisle), wash racks are actually not a favorite of your horse or your farrier.  First of all, it is often wet and sometimes slippery from recent use.  The floor is typically sloped to aid in drainage – which doesn't aid your horse in standing on 3 legs during shoeing.  There is also typically that necessary, but pesky metal drain right in the middle of where your horse should be standing.  Finally, many wash racks can have a dark and closed in feeling that can make your horse a bit worried about being tied up in there.
From a farrier's viewpoint, many boarding facilities are beautiful, but may have been designed to be more people friendly than horse friendly.  Remember that whenever your horse is scared, his first reaction will be either "fight or flight."  Some horses that experience problems with shoeing can often calm down if they are moved to a brighter, more open place within sight of his horse buddies.  Most farriers would be happier to move to a better area to shoe than to fight with a horse in the "approved" shoeing area.
A word about dogs
Many farriers have dogs, some of whom come out to the barn on visits.  And most farriers tolerate owner's dogs hanging around and occasionally reaching in to grab a chewy piece of trimmed hoof.   As a dog lover, dogs accidentally stepped on my horses are a farrier's biggest concern about loose dogs.  They will try to work around your dog, but remember that even the best horses can finally have enough and accidents can happen.  It's best to leave your dog at home on farrier days.
Help your farrier stick to his schedule
Farriers are on a schedule.  They have a number of horses to shoe in a day and they may be located all across a county. Making sure not to set down a hoof on a nosey dog's paw, having to go to a paddock to catch a client's horse and lead him to the shoeing area and dealing with misbehaving horses can sometimes make shoeing a horse take longer.  If he counts on 45 minutes to trim your horse, but now it's closer to an hour because of all the aforementioned issues, this can ruin his whole day's schedule. Think about it.   If every horse needs an extra 15 minutes to trim, with just four horses he's already an hour behind schedule. And that makes for some very unhappy clients who are scheduled later in the day.
While this can vary by farrier, one area you may be able to skip is cleaning your horse's hooves before shoeing.  Some farriers actually don't mind the mud and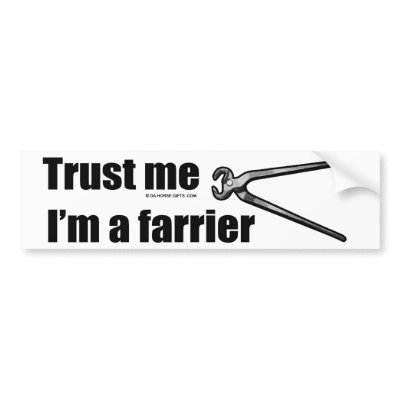 debris as it can provide clues to see how the horse is moving and how the shoes are working.
Finally, here are some definite "dos" to keep your farrier happy.
Have your horse available on time for shoeing, preferably in his stall.
If it's summer, make sure your horse has been adequately fly sprayed to keep him from shifting, biting and swishing his tail for relief.  If flies are a problem in your barn, consider a fly spray program in the shoeing area or a fan to keep bugs of both your horse and your farrier.
If your horse has a history of being difficult to shoe, be sure that you or a competent handler are available to manage him.
Make sure there is plenty of light for your farrier to see what he's doing – and your horse to feel safe.
Wherever you set up your farrier area, make sure it is on level ground.  Having stall mats for both your horse AND FARRIER to stand on are much appreciated on aching joints.
Don't forget small courtesies – offer your farrier a cold or warm drink (depending on the weather), thank him for his excellent work and – of course – pay him as soon as possible!
This entry was posted on Thursday, August 23rd, 2012 at 8:42 am and is filed under Barn Management, Horse Health. You can follow any responses to this entry through the RSS 2.0 feed. Responses are currently closed, but you can trackback from your own site.